Rose is our 7 year old perfectionist. No matter what she is doing she wants to do it WELL. This can be a really good trait and helps her excel but it also holds her back a little because she doesn't want to mess up. She was a pretty cute 100 year old Grandma this week: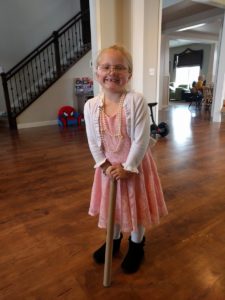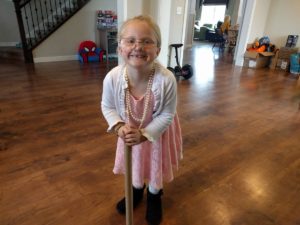 Rose is killing the scripture reading. She has gotten so much better at reading since the beginning of the school year. (3rd grade Lexia level.)
She Loves Descendants, dresses up just because,
She likes to draw – Santa and elves one week, cats and birds another week.
Her teacher says that she is always on task. If she has a sub she leaves Rose's name for the sub if they have any questions!
Rose Loves her friends and she Loves to look cute.
She is a natural nurturer.