We used to be best buddies – but now we're not!
Is that song stuck in anyone else's head?
My kids are best buddies and I LOVE IT.
These boys literally cry at night if they don't go to bed together at the same time in the same bed. They are buddies. They got a drawing book at the last book fair and Packer wouldn't let me draw with him. Only Benji. Another day Pack got mad when Benji went to a friend's house because he felt like he was losing his friend. Another time Packet built a 'museum' upstairs and Benji had friends over. I heard Benji tell his friends several times not to mess it up cause Packer had spent like three days making it.
Best buds – Rose yells for Cali every morning and won't get out of bed until Cali comes and helps her. Cali and Rose always give each other big hugs. They play house and nurture each other. The girls watch Tangled and act it out together. In primary Rose gets scared and Cali comforts her. They really are best buddies.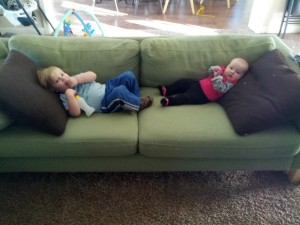 These two are still young but I'm hoping the gender difference won't matter too much and they can be buddies.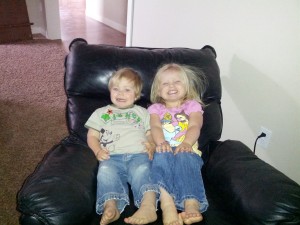 Sometimes they switch up who their buddy is for the day. These two play really well when they aren't too tired.
And these boys have been practicing puppet dancing and other crazy moves, be sure to request a show next time you are over at our place.