Our second Day we went ALL California Adventure. Our main goal was to ride the new Cars Land – Radiator Springs Racers – without waiting all day in line. We got up early and got fast passes and were off and running the entire day. California Adventure had a lot of movie and 3D experiences so we had a little more down time which was a nice change.
I'll give you the cliff notes version of this day 🙂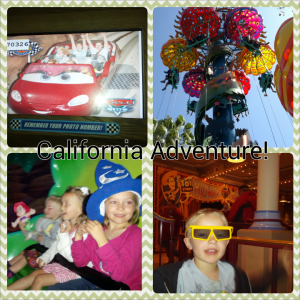 At gate at 7:30 to get fast passes for cars land!
Bugs land. Lady bugs. Cars. Balloons. Train.
Toy story Mania / Tritons Carousel
California screamin'
Cars land
Lunch and ice cream.
Jumpin jellyfish
Disney live theater
Monsters iNC
Tough to be a bug
Talkin' with crush
Muppet movie
Pixar parade
Tower of terror
California screamin'
Toy story Mania
Color lights show at 9:00
Goofy's flight school
Home at 11:00.