Day: October 22, 2013
We went to the PUMPKIN PATCH!! We usually get pumpkins at the local grocery store but we thought we'd try something new this year. There is a pumpkin patch that we pass on our way to Grandma and Grandpa's house so we've been watching the patch grow and headed there to find our pumpkins.

I think we'll go back to the grocery store next October BUT it was fun to try something new.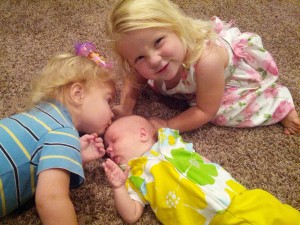 These 3 are little and require a lot of time and effort. 36 months, 20 months and 1 month! Some days I am in over my head. Lots of days I just have to realize that  the house is going  to get messier rather than cleaner. When they do nap it is rarely at the same time and then I have a pre-schooler, 1st grader and 3rd grader that need love, attention, help with home work and the older 3 also know how to make messes. I'm hoping we find a routine in the next little while but in the mean time we do have a messy house and there is chaos behind our new chocolate brown door 🙂 and YES, I do have my hands full!
(and I do feel the need to accompany this post with how cute and adorable and precious and worthwhile these kids are BUT that's what every other post is for.)